Upcoming Teleseminars


Free Teleseminar with Judy Carter:  The Power of Your Story
Tuesday, March 5th 8-9pm EST
All famous and successful speakers have one thing in common -- they have a clear message illustrated by an entertaining story.  But, how do we find our messages? How do know which story will work? How do we make those stories hysterically funny?
Judy Carter, the author of "The Comedy Bible," and her new book, "The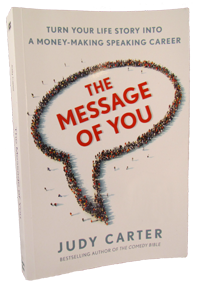 Message of You" believes that the best stories come from our journey from the messes in our life to our successes. The "messes" of our life contain the laughs, and the "successes" have our messages.
In this one-hour seminar (specifically for NSA New York members) Judy will show you how to: 
 Setup your story to draw the audience in
Get laughs using story-humor techniques

 Identify your Eureka Moments
 Use stories to sell your products
 End your story with a call-to-action that packs a punch
Must register to listen: http://nsany.eventbrite.com/
Host:  Judy Carter is the author of "The Comedy Bible" and is one of America's top motivational humorists, appearing on over 100 television shows including Oprah, Good Morning America,  and CNN. She conducts comedy workshops worldwide as well as speaks to government groups, professional associations and Fortune 500 companies.  Judy has shared stages with President Bill Clinton, Deepak Chopra, and Lily Tomlin.